Our 18 hole par 70 course is located at Hurlers Cross where the challenges of par 3s, 4s and 5s await footgolfers.
Mature trees, undulating hills and plenty of challenges will drive footgolfers to score the best round and even take a chance at the course record.
The course opens with three parallel par 4 holes before a cluster of tricky par 3s bring you to the 7th 'blind' hole.
A tee-off through the valley to the 8th green comes before the long 9th but where the wind could be in your favour, or not.
10 brings you to the trick green where position is key before 11 gives you a chance at glory.
12 is guarded by plenty of traps and trees before nice par 3 paves the way for the left footers on to 14.
15 is where the fun and games are. Can you go over it or should you go around the wall of mature trees that guard the green.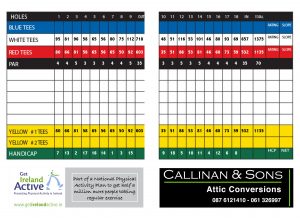 16 is usually into the teeth of the wind with a tricky rolling green before 17 allows you one last chance of a birdie at the trees.
The swing to 18 can be kind and let you finish with a flurry.